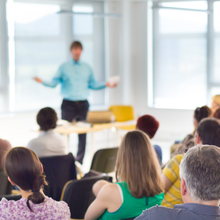 The start of your presentation is perhaps the most important part. After all, it is your chance to make your audience curious and to put them in the right mood. Moreover, you outline a framework through which the people in the room can better understand the rest of your story. What is the best approach for your introduction?
Start a presentation in a catchy way, so that your audience is fascinated from the very first minute. How do you do that?
Most of the speakers start with a cliché sense and because of that they bring their audience into a sort of 'here-we-go-with-the-umpteenth-weekday presentation' mode. Of course you want to make a better start, where you get the audience right away from their seats.
The problem is that most speakers in their introduction say things that the public already knows. While you should actually unpack a kind of surprise effect. This naturally requires creativity and preparation. And yet it is simpler than you think.
Presentation coach Sylvie Verleye shares in the video below the technique she uses when she gives a presentation and wants to start with a strong opening sentence.
Discover in this video a proven technique that you can apply to every presentation to introduce your subject in an original way, to attract the attention of your audience and immediately make a strong impression.
ReactionsWhat do others think about this article?
Nuttig, logisch ook waarom is iets voor iemand zinvol .....
Ik stuur deze mail zeker door aan andere lesgevers en presentatoren ....

bedankt