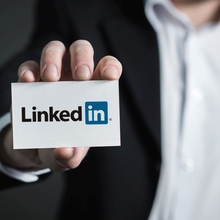 Linkedin is the biggest and most import business to business network. So forget about Instagram, twitter and facebook. If you are looking for a job opportunity or if you want to do business and make money, Linkedin is the place to be. And it all starts with a good Linkedin profile.
In order to be successful on Linkedin, you need to stand out with a professional and attractive profile. With an optimized profile you will get more views, you will make better, more quality connections and you will receive more endorsements and the right job offers or business proposals.
So let's have a look at what you need for a great LinkedIn profile. There are 3 important things.
STEP 1: Have a profile photo
If you don't have a profile picture or if it's outdated or inadequate you should change that right now. Statistics show that LinkedIn members with a good photo receive far more engagement: 21 times more profile views and 9 times more connection requests.
If you don't have the time or resources to ask a professional photographer, you can snap some photos on your own.
So how do you know if your photo is good for Linkedin? In the video below, you will find some useful tips and examples of good and bad Linkedin profile pictures.
STEP 2: Optimize your headline
The headline can be found just under your name. Per default, Linkedin puts your job title there. Like "Officer Assistant" or "Sales Manager".
The headline in LinkedIn plays a critical role. Treat it like the headline of an advertisement. Its job is to help the reader determine if she wants to read on or not. If your headline is little more than your job title, it will not do much to engage the reader.
To brand your headline and make it stand out, use this proven formula:
Job title/company + Keywords + Zing!
Watch the video below to see how you can apply this simple formule to your own Linkedin profile.
STEP 3: Write a strong summary
Now this is extremely important because your summary gives information about your professional background and abilities and helps get you noticed. It's worth it to spend the time to make your summary informative and attention-grabbing.
You will want to include the important keywords again, but this time make it an appealing text. That shows your passion, your mission, your skills. You can write up to 2000 characters here, so you can make it as long or as short as you like, but make is as specific as possible.
More importantly - and this is really a big plus: you can show off your skills with social proof.
In the video below I will show you exactly how to do that.
ReactionsWhat do others think about this article?
gouden tips voor een krachtig linked-In profiel te !! bedankt


Ik vond het een zeer interessante video. Met jouw tips heb ik reeds het nodige aangepast.
Wat een bruikbare tips! Ik ga ze meteen aanpassen.


It helped when you talked about How to make Money On Linkedin or Participant. Recently, I have been in search of a better blog that explains more about How to make Money On Linkedin and I'm interested in knowing more about more qualities of your Posts. Thanks for the enlightenment.