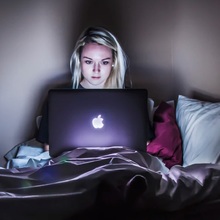 Do you ever feel worn out after a day full of Zoom meetings, Teams meetings and video chats? You're not alone. Even Microsoft recognizes this phenomenon: employees feel more tired during video meetings than when they work together face to face. How do you best deal with this online 'meeting fatigue'?
Video conferencing can be stressful. Do I look good on camera? Who is that person on the other side? Is the connection not going to fail? What if I have to share my screen? It just takes a lot more energy from our brains to focus on a video call for a long time, especially if it is with multiple participants.
Result: a full head, emotional exhaustion, over-stimulation and even sleep disturbances can be your turn.
In the new norm, online meetings seem like an easy fix, but having too many of them is actually draining your energy. That is why it is wise to limit the number of online meetings. Maybe that one meeting is not really necessary and the information can also be shared by mail. Or you can take the phone (yes, you can call!) to speak to your colleague or customer in person. Maybe just a little simpler and more efficient.
If you do have that online Zoom or Teams meeting on your agenda, there are a number of life saving tips to make those online meetings a lot less stressful.
In the video below you will find some hacks that you can use before, during and after those often debilitating video meetings to survive a busy Zoom or Teams day and stay fresh and sharp.
ReactionsWhat do others think about this article?
Dank je wel om dit te delen. Zeer nuttige tips.
Duidelijke en concrete tips.
Probleem is dat de meesten onder ons deze al kennen, maar nog te weinig in de pratkijk toepassen, inclusief mezelf.
Bedankt voor de reminder.