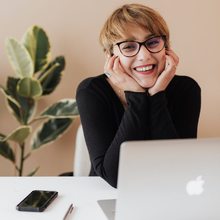 The employees of your company are the most powerful ambassadors for your organization. Especially on social media like LinkedIn.
Studies show that employees have up to ten times more followers than a company's social pages. Even more: content shared by employees generates twice as much interaction (likes, comments, shares) than when the same information is shared by a company.
Companies that invest in employee advocacy are up to 58% more likely to attract top talent and 20% more likely to retain this talent.
That's the power of employee advocacy.
Of course, these ambassadors don't just fall out of the sky. Employee advocacy is a strategic, sustainable program to encourage employees to share company content organically.
These 4 steps will get you started on making "social media superheroes" out of your employees.
Step 1: Share company goals and values
Employee engagement starts with a clear understanding of where the company is going and what it stands for. It's important that upper management doesn't stay in an ivory tower, but opens up and communicates transparently. This means: a clear corporate culture, where everyone shares the same values and understands the goals of the company. If employees feel like they have an impact and can make a difference, they will be even more motivated to help spread the word about the company.
Step 2: Provide social media training and clear guidelines.
The number one reason employees are reluctant to share company content is the fear of making mistakes or posting the wrong thing. Make sure your employees have a clear idea of what type of content the company does or does not encourage them to share.
For example, content that mentions a competitor may be prohibited, but it may also be allowed. Humor may or may not be appropriate. You may want to provoke debate, or rather play it safe. Make sure your employees clearly know what your organization stands for.
A second important reason why employees do not share content is because they are not always familiar with the possibilities of a business platform like LinkedIn. A good start is a LinkedIn course where personal branding, networking and sharing content are clearly explained.
Step 3: Provide content to share
Once your employees are inspired and informed, they are ready to start sharing. The company can help by providing content for ambassadors to distribute.
Sharing content will feel more natural and employees will be more likely to share it if the content matches their interests. For example, an employee might be hesitant to share too many posts that strongly promote the company's products. But an inspiring post from the CEO, an interesting article on industry trends, or a behind-the-scenes look at their workday will make them much more likely to share.
Step 4: Acknowledge and reward
Nothing is more stimulating than a pat on the back - and maybe a little competition. It's important, though, that it doesn't become a burden. Social sharing should not feel like yet another task added to the workload. If you've thought about Step 1 well, they'll be only too happy to share what the company is up to - after all, they're excited about the vision! And with clear guidelines and knowledge of the possibilities, you'll remove any barriers.
Employees have the potential to be a compelling, authentic voice for the organization. If you can inspire employees and make sharing easy and challenging, they will help strengthen the company's image, expertise and professional reputation.
More information: LinkedIn Training