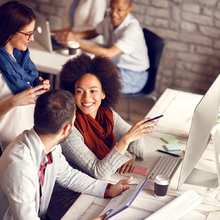 Personal skills often make the difference between success or failure in your job. Professionals with excellent soft skill skills achieve desired results faster and more productively. Moreover, they succeed in communicating better, avoiding conflicts and achieving smoother cooperation with colleagues, clients and other team members.
Skills are the currency of the future. Investing in these top 3 skills will pay off forever.
1. Time Management
Your time is finite, and you should dedicate yourself to learning skills that yield the greatest benefit. Effective time management will make your life exponentially easier and more fulfilling.
Think about it…When was the last time you actually planned something and fully executed it? And what about your epic to-do-list? The key is to shift your mindset and value your time more than you value money.
2. Emotional intelligence
It's a fact. People with high emotional intelligence are more likely to get hired, promoted and earn better salaries. Empathy is a powerful means to persuade others, getting them on board and even to solve problems and come up with innovative ways forward.
Emotional intelligence is a superpower you definitely need.
3. Public speaking
I'm amazed how few people succeed in giving a clear presentation to a group of people. Public speaking is a vital skill. It allows you to form connections, influence decisions, and motivate change. And it has an enormous impact on your career path and your level of professional success. It's a skill you can and should absolutely develop.