Presentation techniques: presenting with impact
Training 'Presentation techniques: presenting with impact'
Starting from € 695,00 (Excl. VAT)
This training tailored to your organization's needs? Contact us
Whether someone is persuading colleagues, selling to a client, or energizing a team, the power of the presentation makes the difference between the individual and company's success and failure. At first, PowerPoint seemed to be the answer to all our presentation concerns. However, your slides should support our message, not to be the message.
There are no hidden secrets to being successful when you present. You can develop these skills through training and practice. By enhancing the ways in which you present and communicate you'll be able to bring a strong message to your audience.
You'll learn how to structure your material for the best impact and present to audiences of varied sizes.
The importance of a good presentation
How to plan for successful presentations
Essentials for the presenter
Handling the unexpected
Coping with nerves
Understanding body language
PowerPoint Tips & Tricks - Pitfalls to avoid
Putting across a clear message
Using passion to present
Structuring your presentation support material
Dealing with difficult or tricky questions
Keeping your audience Interested
This workshop is for anyone who delivers presentations to groups of any size - whether inside or outside your organization.
Participants can bring their presentations on a laptop or memory stick. This will allow to put the learned techniques and tips immediately into practice.
Participants will learn to:
Create slides to maximize effectiveness and audience retention
Grab the audience's attention and keep it throughout the presentation.
Utilize presentation techniques to demonstrate confidence and credibility.
Avoid common PowerPoint pitfalls.
Create a step-by-step process for designing an effective presentation.
How to respond to questions from the audience
How to deal with stress and stage fright
Included in this training: the course book "Persuasive Speaking". A professional guide to making and giving successful presentations.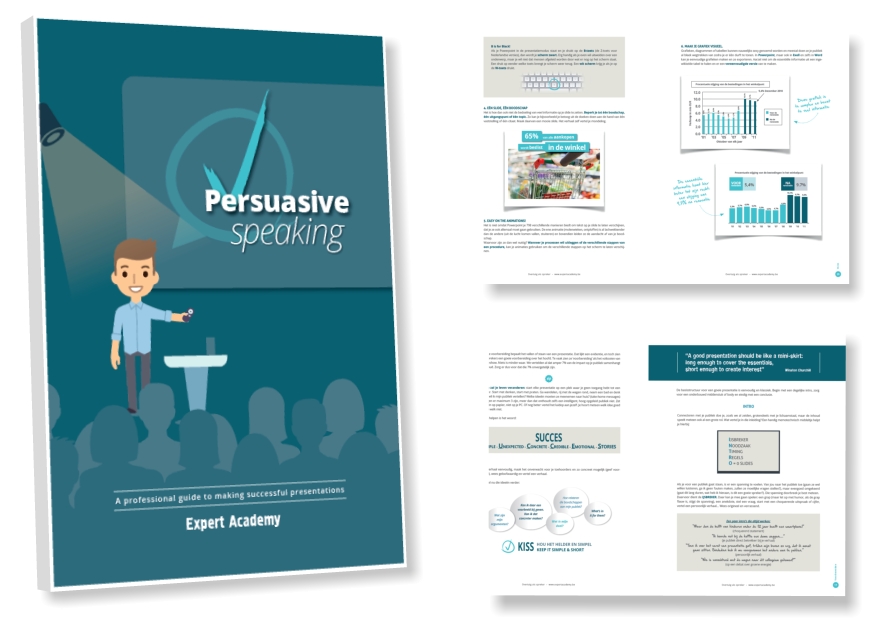 Download the pdf guide in the e-store
Choose the desired date and location for this training.
This training is also available as personal coaching, in-company training or compact workshop.
Contact us for more information.
Related videosWatch training videos
This website uses cookies! For more information regarding our cookies, please read our cookie policy