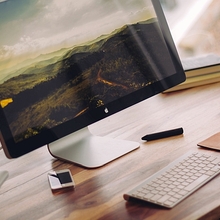 If you're making a PowerPoint presentation or writing a new article for your blog, you do not always have access to beautiful photos or images. In this article we review the best websites where you can download free pictures.
One picture says more than a 1000 words. Photos and illustrations attract the attention of your audience and help you to create a visual masterpiece of your presentation, blog or website. Only, it is often time consuming to find the appropriate material.
A good tip is to search Google images, but the problem there is that photo quality is not always optimal. Moreover, there is a risk: plucking images from the Internet can be a violation of copyright.
Fortunately there are alternatives to find free quality images online. We compiled a list of great websites where you can download quality stock photographs for free.
5 free websites with quality royalty free photographs
1. Unsplash
Every day, 10 new high-resolution downloadable photo free www.unsplash.com
2. Picjumbo
Many quality photos in various categories. Also has a paid premium collection. www.picjumbo.com
3. Pikwizard
No hassle, no restrictions, no account needed. Great pics and fast downloads. www.pikwizard.com
4. Jaymantri
Not really well organized, but certainly useful images between them. www.jaymantri.com
5. Split Shire
Looking for something more original and artistic photos? Then you are in Split Shire to the right place. www.splitshire.com
BONUS
Of course there are many more free sites with stock images, but often there are snakes in the grass. We have selected only those sites that offer quality photos and images for commercial use without hassle or registration.
More info: Presenting with Impact, Slide Writing Skills, Public Speaking Skills
ReactionsWhat do others think about this article?
Top! Leuk om die sites te delen. Hier kunnen we zeker iets mee.

Hi,
Please check out http://www.goodfreephotos.com for thousands of unique public domain photos, especially travel photos. Appreciate it if you could add it to your list.