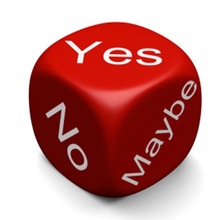 You probably hate if customers disagree with your proposal and you get a NO to to your hard work. It's important to keep in mind that customers can say "no" for many different reasons. Try to figure out what that word "no" actually means. Then you can better assess what your chances are to make it "maybe" or even "yes" at a later time.
Do you want to be more successful in sales?Here is a golden tip.Forget all those cheesy sales techniques. There is one magical question that you should definitely ask if the customer shows resistance or is critical to your sales proposal.Let's be honest: being successful in sales is not an easy thing.Customers are becoming more and more articulate, the competition getting sharper.How could you possibly make a yes of that NO?
In this video, Jan Buermans explains how you can give the sales conversation a different direction with one very simple question.
ReactionsWhat do others think about this article?
Hey Jan! Flashback naar m'n Promedia (Truvo) tijdperk... 'Hoe bedoelt u' :-)...
Na bijna 20 jaar nog altijd dé toverzin.
het klinkt heel logisch.
Dit ga ik zeker gebruiken. Ik vond het ook heel nuttig dat er gezegd wordt dat als je het de eerste keer gebruikt de stilte een eeuwigheid lijkt te duren