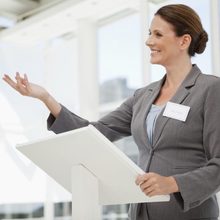 Public speaking anxiety is very common. Many people have difficulty getting their fear of speaking or stress under control. Here are 5 simple tips that everyone can immediately apply to control your presentation stress and to speak to a public with confidence
Did you know that even experienced speakers often have stress before they have to speak at a presentation? The big difference is how those experienced speakers deal with that stress. Here are the 5 most important tips to speak confidently and with impact for an audience.
1. ACCEPT THE STRESS
Nerves are very normal when you start presenting. You perform at a higher level than in your daily work. You need the adrenaline that your body creates for it to perform optimally. Appointing this stress more positively, for example as 'task tension', helps to accept it.
2. GIVE YOUR SELF-CONFIDENCE A BOOST
Even if you feel lost and insecure you can give a confident look! 'Fake it' till you make it '. Taking a confident attitude, even if you just pretend, works to make a strong impression on the audience.
3. THE AUDIENCE DOES NOT SEE WHAT YOU FEEL
This fits seamlessly with the 2nd tip. You may feel nervous, but usually the audience hardly notice it. So do not put yourself in a downward spiral by constantly evaluating and criticizing yourself. Concentrate on the content of your story and your body language, then the stress disappears very quickly.
4. KEEP BREATHING!
Stress increases the breathing rhythm and ensures that the adrenaline is pumped around even faster in your body. What causes a snowball effect: you become more and more nervous. Before starting your presentation, try to breathe in and out at least 3 times (count in mind to 4 by inhalation, to 6 by exhaling), it is guaranteed to reduce your stress level by half.
More information: Public Speaking Skills