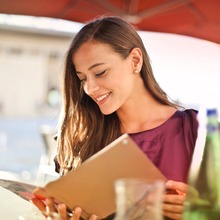 Looking for a good book on communication? Here are our book tips for practical no-nonsense books to improve your communication. This way you learn to communicate clearly and convincingly to colleagues, customers, employees and managers.
Below you will find our book recommendations.
We communicate daily with different types of people. Think of (online) meetings, presentations, but also negotiations, work meetings, performance reviews, giving and receiving feedback...
It is often not easy to find the right words. Certainly not in difficult conversations or in difficult situations.
That is why we have selected these top-3 books, written by professional experts. We have made a selection of the best communication books for you.
This handbook will help you to gain insight into certain events and into your own behavior. With very concrete tips and directions to react in a different way in the future.
You will learn to use an effective communication style with attention to body language, effectively communicating your message and building a lasting contact with others.
Contents of this book:
Insight into your own communication style
Convincing communication
The power of nonverbal communication
How to make a self-assured impression?
Application of assertiveness techniques
Dealing with different types of interlocutors
Communicate concretely and specifically: say what you mean
Active and focused listening
The importance of empathy with yourself and with the interlocutor
Emotionally intelligent communication
Dealing with resistance and difficult people
Give and receive constructive feedback
How do you make a customer-oriented impression? How do you make sure you sound professional and positive on the phone? How do you estimate the wishes and needs of your client? And how do you respond to customers who are not satisfied or even verbally aggressive?
This book gives you concrete tips, techniques and insights to make a positive customer-oriented impression, even when the customer is demanding.
The content of this e-book:
Customer focus. What does that mean?
The impact of communication
The structure of a phone call
Outgoing phone calls
Making appointments
Dealing with difficult conversations
A complaint is an opportunity
Complaint handling: the step-by-step plan
Types of difficult customers, how do you deal with them?

-> Read the book here
In this practical handbook you will learn how to tune your presentation to the expectations of the audience. You learn to make optimal use of often unprecedented tools and techniques to inspire an audience and at the same time which pitfalls you absolutely must avoid for a successful and successful presentation.
The following topics will be covered:
Giving a clear goal to your presentation
Getting attention from the first moment with a strong opener
Techniques to make your presentation engaging and entertaining
Conscious use of body language, expression and intonation
Overcome your speaking anxiety and stand confidently in front of your audience
Create powerful slides that support your story
The perfect structure for a clear presentation
Dealing with resistance or "difficult" questions from the audience
Convince with storytelling
Surprise your audience with a beautiful presentation
Would you like more books on professional growth and personal development? Then be sure to have a look at this list: books on personal development.