Training 'Public Speaking Skills'
€ 1.150,00 (Excl. VAT)
This training tailored to your organization's needs? Contact us
A service oriented environment is all about communication. Not only the content of your message but also the way you frame the message is important. Any professional who wants to effectively present, convince or sell ideals, projects or plans to others can benefit from this training. We will help you bring the right message across in a confident and effective way.
How to effectively use your body language
The power of great introductions
Becoming more clear and concise
How to eliminate stress and nervousness in seconds
Ways to add energy an impact to your presentation
Effectively using PowerPoint and how to avoid the click talk trap
Dealing with difficult questions or resistance from the audience
Individual presentations and feedback
The course "Professional Presentation and Public Speaking" is aimed at anyone who often must speak to groups in a convincing way. More specifically, this course is beneficial to executive professionals, managers, communication managers, sales professionals and trainers.
Practice is central to this 'Public Speaking' workshop. You will immediately get started with your own presentations. Video feedback provides you with a clear insight into your strengths and enhancements, with both content, voice usage and non-verbal communication being treated.
You will discover how to make your presentations memorable, relevant and impressive.
You will learn how to:
Develop your presentation skills - quickly and efficiently
Become a confident public speaker
Learn to control and use your voice and body language
Improve your communication skills
Structure and prepare effective presentations
Included in this training: the course book "Persuasive Speaking".
A professional guide to making and giving successful presentations.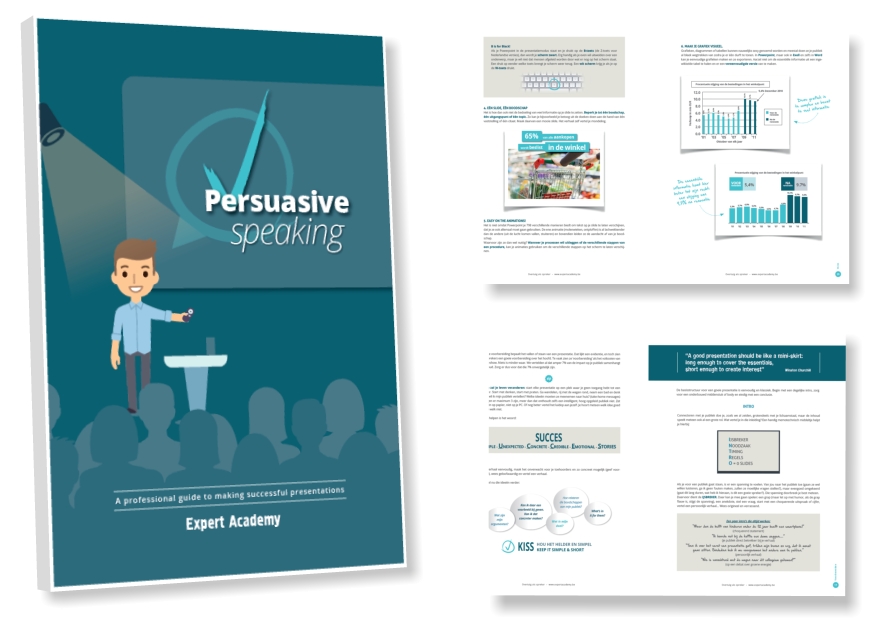 Download the pdf guide in the e-store
Choose the desired date and location for this training.
This training is also available as personal coaching, in-company training or compact workshop.
Contact us for more information.
Related videosWatch training videos
This website uses cookies! For more information regarding our cookies, please read our cookie policy